This is a very popular plan recommended for riders who love motorcycles and enjoy touring.
Please cultivate your spirit with hot springs that heal the tiredness of riding, superb views from your room, and delicious food!
■ Plan benefits ■ You can park your precious bike in the covered garage! This hotel has set up a changing room for dressing raincoats just inside of the hotel entrance, and there are lockers and places to hang them, so you can go in and out with your raincoat on. Also, free rental goods are available!
(Please feel free to contact the front desk)
Recommendation points of the "International Touring Club"
* The garage storage plan, which is safe for luxurious motorcycles, is a nice service for riders. This should the starting point for touring the Izu Peninsula!
* The superb view can be seen from both the room and the open-air bath.
* The ramen at the restaurant is excellent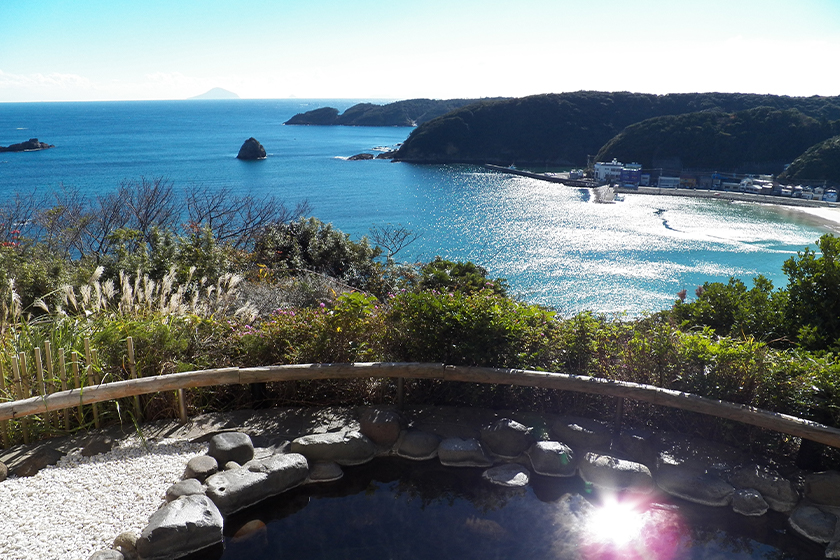 1. Battery-related items ・Fully automatic charger for sealed battery ・Battery charger for open type ・Voltage tester ・100V cord reel 20m ・High tension cord for passenger cars
2. Helmet deodorant, dryer available at free of charge
3. Keeping Helmet (at the cloakroom)
4. Rental of chain lubes, 556, general tools, etc.
■Cuisine
▽Dinner▼
Enjoy a blissful time full of mind and body with experiencie of the art of a cook who makes use of the fresh sea ingredients of the sea near Izu and seasonal foods.
Dinner will be served at the restaurant "Heian no Ma".
Depending on the reservation situation, please note that dinner may be changed to buffet.
▽Breakfast▼
Depending on the accommodation situation, it might be a seasonal buffet of seafoods, or a Japanese set meal (not selectable) Restaurant "Shantan" or restaurant "Heian no Ma".
* The restaurant "Heian no Ma" is non-smoking.
■Bath
Enjoy the fresh Shimoda hot springs in the open indoor bath with large glass windows and the open-air bath with a Japanese atmosphere.
At night, you can look up at the starry sky while listening to the sound of the waves crashing against the coast, and in the morning you can enjoy the rising sun on the horizon.
○Bath time: 3pm to 1am and 5am to 10am
The use on men and women gets switched in the morning and evening.
■Access
By car / about 1 hour and 40 minutes from Tomei Expressway Numazu IC
By train / Get off at Izukyu-Shimoda station on the LImited Express Odoriko, and it is about 6 minutes by taxi.
※pickup service at the staion is available from 13:30 to 18:00 (Make a reservation in advance)
○As the roads in Higashiizu get very crowded on weekends and during busy seasons, it is recommended to take the route from Numazu IC via Nakaizu to both Tokyo and Nagoya.