About this site
International Touring Club,Company overview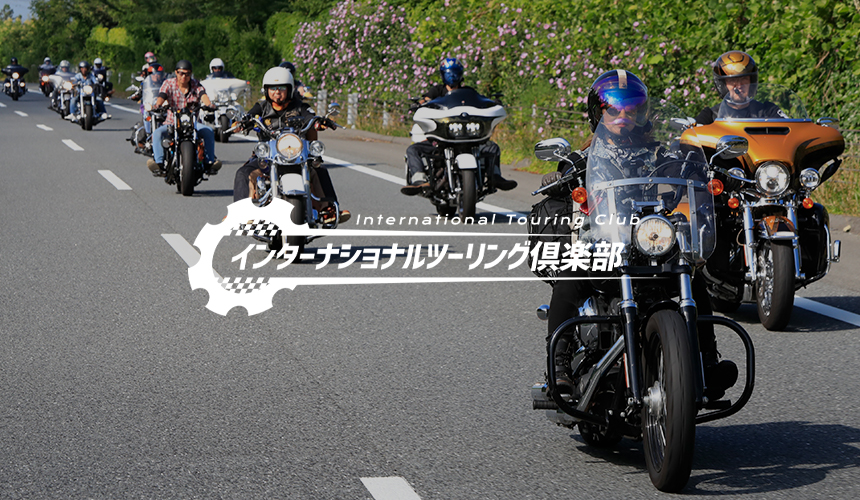 About this site
As a site specializing in motorcycle tourism
"International Touring Club

(ITC)" has been opened.
The motorcycle industry in Japan has four major brands in the world and is an industry that represents in this country that is second to none.
49%, one in two of the motorcycles currently running in the world are Japanese brand.There are various uses, but regardless of whether you have a license or not, it is a vehicle that everyone once longs for and wants to ride.

In recent years, sales of domestic large motorcycles and imported motorcycles have also shown signs of growth, and since the purchasing group is a generation with a large and relatively stable income in middle and old age, further development of undeveloped motorcycle tourism is expected as a leisure activity in the future.
In addition, the development and sales of small motorcycles that are introductory to young people are progressing, and the sales performance is also increasing significantly.
The government is also making efforts to improve the motorcycle environment in order to revitalize the market.

We, I.T.C., are to extend the appeal of motorcycles to more people.
By cooperating in fostering a healthy motorcycle culture in Japan and using motorcycles for domestic and international tourism, and holding events in collaboration with other cultures, we will promote regional revitalization and cultural exchange not only in Japan but also overseas, and we will develop a business that expands the enjoyment of a sustainable motorcycle kingdom from middle-aged and elderly people with a high motorcycle ownership rate to the next generation.
About our service
International Touring Club does not have a membership system.
All riders are members.
We will provide information for members to enjoy touring.
Accommodation for touring, biker's cafe, restaurant, of course, photogenic points, events, motorcycle-related goods, motorcycle shops, etc. we will continue to update it from time to time!

As the accommodation plans introduced by the International Touring Club will be booked directly on the hotel site:
① Best price! Safe plan for direct payment at the hotel!
② Introducing only inns with rider benefits! Rider special plans cannot be booked on other travel sites.

*1

③ A secret plan only here is available.

*2
You can receive benefits just by clicking Reservation on the International Touring Club site to make a reservation on the hotel site, or telling us that you saw the International Touring Club on the phone.

We will introduce inns that can be enjoyed by the solo touring group and group mass touring groups, focusing on rider-friendly special plans. Don't miss it!

We, International Touring Club, are seeking information from riders and accommodations or motorcycle-related businesses! Please send from SNS or contact form.


Inn's original plans are also posted on other sites.
Please contact the inn directly for the secret plan. There may be no settings.
Company overview
Site name

International Touring Club (I.T.C)

Administrator

I.T.C.Office Director Tadashi Komiya

Main business details

Operation of an information site for enjoying motorcycles with a focus on motorcycle tourism

1.Introduction of accommodation plans for riders
2.Offering touring information
3.Hosting events
4.Development of inbound sites
5.Development and sales of motorcycle parts
6.Introduction of motorcycle shops                                 

Provider groups

Bikers Paradise Inc.
General Incoporated Association Motorcycle Industrial Promotion Organization